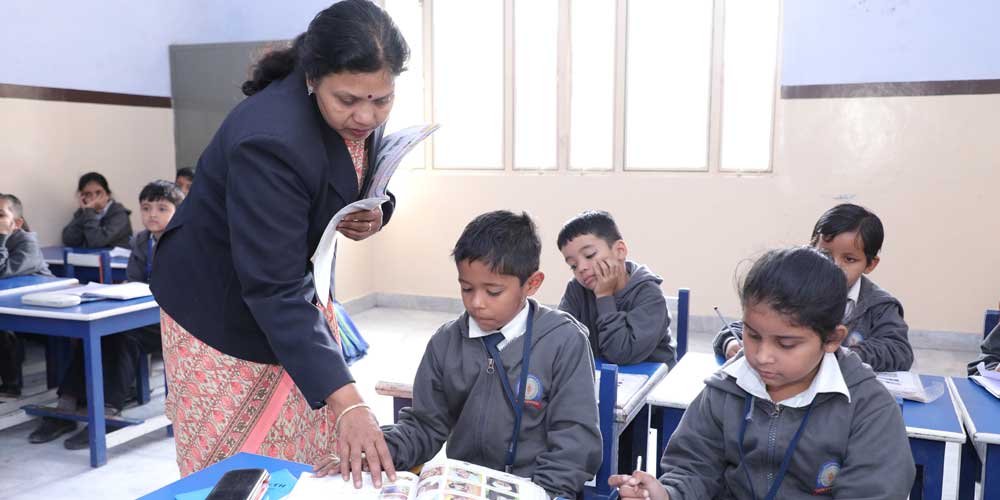 The academic program for the primary section is based on the NCERT curriculum where subjects are taught with the help of hi-tech teaching aids. Emphasis is laid on conceptual clarity rather than on cramming the books. The grading system is followed in primary classes. The teachers act as facilitator. Teaching is mainly interactive, & students are encouraged to explore knowledge rather than given a ready solution. Students are taken to computer lab from standard I onwards. A separate lab is provided for lower classes. Here they learn the basics of the computer working independently on the machine. Spoken English is a very high priority. Students go regularly to English Language Lab with computers, headphones and LCD projector. Here they not only learn correct pronunciation but also how to converse in English. This helps enhance their self-confidence.
Mathematics, Social Study and Science labs help students to understand various concepts more clearly. Special emphasis is given to Yoga and Indian values. A separate Yoga room provides the right kind of ambiance for learning asana. Here they are also taught our Indian values.
A well thought out homework policy keeps the students adequately engaged at home also. Regular parent-teacher meetings keep the parents abreast with the progress of the students. Parents are encouraged to join the efforts of teachers to make the whole exercise of learning a stress-free experience.
Students learn Indian/Western Dance and also some musical instrument during their music period. In the library, students are encouraged to read books other than course material. Newspapers, periodicals, and other reference books help them learn about the latest happenings around them.
Extra Curricular Activities
Robotics | Ucmass | Yoga | Skating | Art & Craft | Dance | Music  | Sports