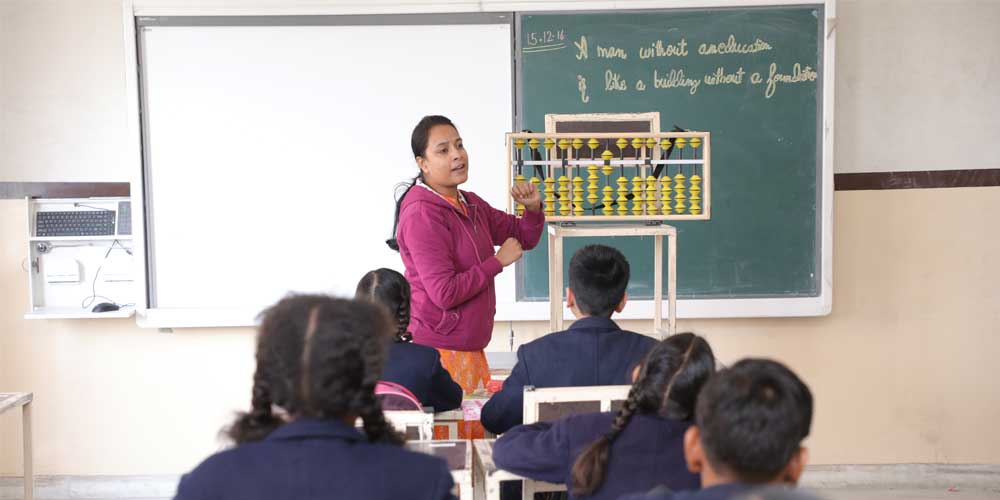 Building on the concepts imbibed in the previous classes, the students would develop a greater understanding of the subject. The focus is on the overall development, striking  the right balance between academics and co-curricular activities As the school is affiliated to CBSE follows CBSE curriculum, which is taught with modern methods. It encourages students to develop their talent and realize their full potential. The low student-teacher ratio ensures individual attention. The students are encouraged to follow their creative instincts and grow as responsible human beings.
More and more interactive teaching methods are adopted. Students understand the basics of the subject through project work they get under the CCE program. Students continue with English language lab. Here they consolidate their command over English with the help of computers and specially developed software.
Sport is an important part of the curriculum. All students play at least one game. The school has football, volleyball, cricket, badminton, TT & other playfields beside a cemented basketball court.
Students also go on for study tours regularly. Special emphasis is given to Yoga and Indian values.
For all the science subject students regularly visit various labs like physics, chemistry, mathematics, and biology. They get hands-on experiences while working in the lab.
Students are also given proper counseling about career options available to them. Regular workshops are conducted by experts to help them decide the right career.
Extra Curricular Activities
Robotics | Ucmass | Yoga | Skating | Art & Craft | Dance | Music  | Sports