-The Pre Primary Wing of KGP
The tiny tots have their own independent nursery wing with colorful interiors, kid-friendly furniture, educational and recreational toys and other innovative learning materials. Creative games and activities instill virtues of patience and concentration in the young students. All the classrooms are air cooled.
Outdoor facilities include a separate botanical garden, play fields (both covered and open) with a variety of swings, slides, huts, sand-pit and a nice splash pool. Playfields have direct access to classrooms. Here, the lush green lawn energizes them to run around & engage in various games.
CRAYONS has all this and more. Cupboards full of storybooks, toys, and teaching aids make learning an enjoyable experience. Highly motivated, very affectionate and caring trained teachers make CRAYONS ultimate destination for your child.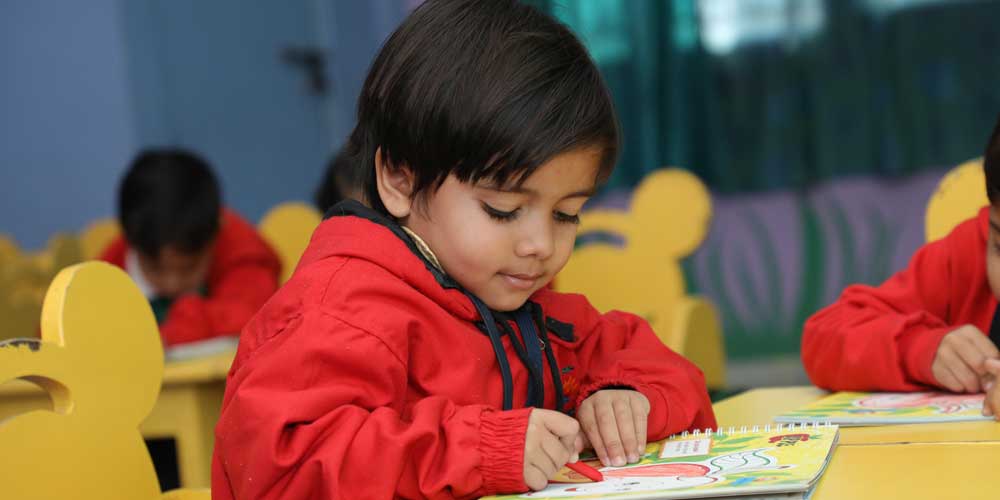 Indoor activities and games for the pre-primary section include aloud reading, painting, story-telling, dressing up, scribbling boards, art & craft and dollhouse, etc.
The teacher facilitates to bring the best out of them. The whole curriculum is child-centric. They are taught to prepare themselves for the beginning of  formal education.
Kids are encouraged to observe, think, recognize patterns and make a connection with the things they come across in daily life. There is no formal examination for the tiny tots. Students are guided to explore the knowledge themselves.